Adress
Phone.: +7 (495) 709-65-67
Fax: +7 (499) 178-03-92

E-mail: iutochkin@hse.ru
Adress: 109316, Moscow, Volgogradskiy prospect,  46-B
If you are coming by subway: Metro "Textilshiki" (Tagansko-krasnopresnenskaya line), the last carriage from the Centre of train. Than upstairs, not to escalator, but to the right, stight out of the subway.
From subway you can go straight, pass the market and go through the underpass Shosseynaya Street, or by taking a little to the left, move to a traffic light. Further to the left along the street, and befind yellow building (House 46-b, Bldg. 1) you will see a white building of the Faculty (46).
At the entrance, turn right, and then again to the stairs. Laboratory room 322 is located on the third floor on the right side of the corridor.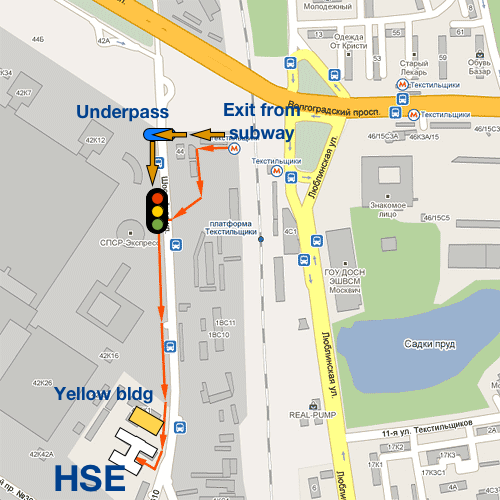 Have you spotted a typo?
Highlight it, click Ctrl+Enter and send us a message. Thank you for your help!